Wet wipes, also known as wet towel or moist towelette. It is a small piece of wet plastic or cloth, which is often folded and individually packed for convenience. Wet wipes are used for cleaning purposes, such as personal hygiene and household cleaning. There are all kinds of water wipes on the market, such as infant wipes, alcohol wipes, car wipes, shoe wipes, gym wipes, industrial cleaning wipes, etc. In our company, you can find any wipes you want.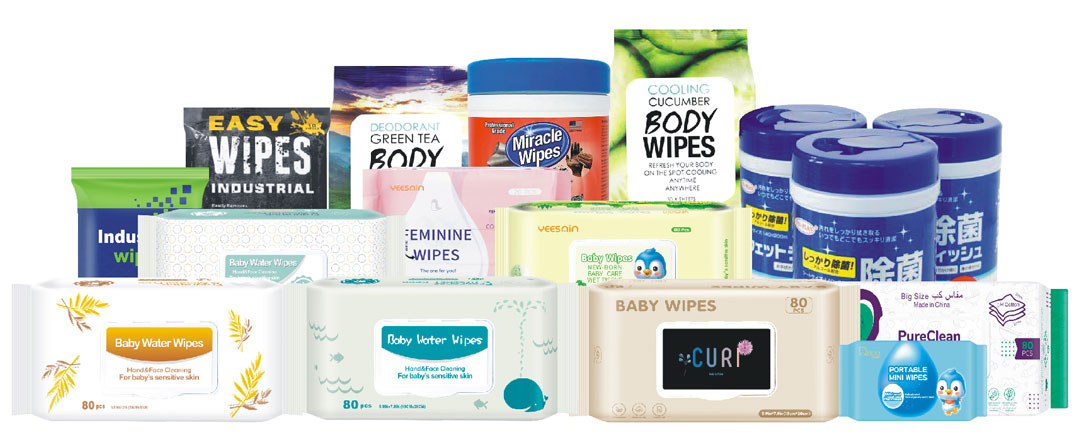 When Were Wet Wipes Invented?
American Arthur Julius is seen as the inventor of the wet wipes. Julius worked in the cosmetics industry and in 1957, adjusted a soap portioning machine, putting it in a loft in Manhattan. Julius trademarked the name Wet-Nap in 1958, a name for the product that is still being used. After fine tuning his newfangled hand-cleaning aid together with a mechanic, he unveiled his invention at the 1960 National Restaurant Show in Chicago and in 1963 started selling Wet-Nap products to Colonel Harland Sanders to be distributed to customers of Kentucky Fried Chicken.
The Ingredients of Wet Wipes
Ninety percent of wet wipes on the market are produced from nonwoven fabrics made of polyester or polypropylene. The material is moistened with water or other liquids (e.g., isopropyl alcohol) depending on the applications. For example, if you want to get alcohol wipes, then alcohol should be added to wipes. The material may be treated with softeners, lotions, or perfume to adjust the tactile and olfactory properties. Some preservatives such as methylisothiazolinone are used to prevent bacterial or fungal growth in the package. These additives are harmless to humans.
Uses:
Wet wipes can be used for many personal and family purposes. Although it is mainly used to wipe the baby's buttocks when changing diapers, consumers often use the product to clean the floor, toilet seat ring and other objects at home. Parents also use wipes, or baby care wipes, to wipe their babies' vomit and clean their hands and faces.
R&D
In order to make superior wipes, our company has set up a special technology R&D department. This is a technical R & D team with high education, rich experience and strong innovation ability. There are 10 people in the team. Our company also attaches great importance to the research and development of new products. Every year, Yeesain invests heavily in the research and development of new products and has obtained 4 patents. We promise that every one of our wipes has been strictly tested before they go on the market, so you can use it at ease.
Wet Wipes Products
Mini disinfectant wipes are the perfect size to pack into purses, gloves boxes, and diaper bags. They can work on many surfaces, such as home, offices and electronic devices.