Adult insert pads are usually used with diapers. It is not recommended to use them alone. Generally speaking, most paralyzed, incontinent and disabled adults and the elderly will use adult insert pads. A small number of people who drive or work for a long time will use adult nappy pads. The combination of adult diapers and adult nappy pads can not only increase the absorption, but also save the cost.
The Way to Choose a Superior Disposable Nappy Pad
You had better choose the disposable adult nappy pad with the character of large and wide.
To prevent side leakage, you can choose the insert pad with high elasticity and thickened side.
Observe how dry the diaper is. Good quality diapers insert pad can keep the surface dry after absorbing water, which is conducive to keeping the skin dry and make the user feel comfortable.
The shape of diapers after use. After absorbing the liquid, a good diaper can still maintain a complete and even shape. The absorption layer of poor nappies insert pads will agglomerate and affect the use.
Absorptive capacity. You'd better choose the adult diapers pads with large absorption capacity. The product can absorb a lot of liquid because there are good absorption materials, so pay attention to its materials when you buy it.
Construction:
The material of disposable adult nappies insert pad are nonwoven, paper tissue, fluff pulp, SAP(super absorbent polymer), and PE film.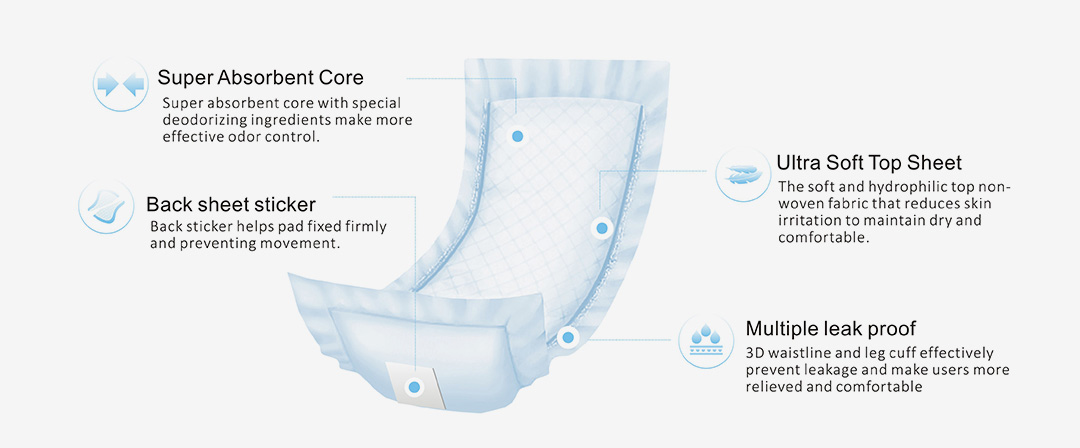 Features:
The soft breathable non-woven top sheet keeps the body dry and comfortable;
SAP and fluff absorber with rhombic embossment assures high absorbency;
Leak-guard design prevents liquid side leakage;
The bottom water-proof film ensures you of cleanliness;
PE film with eye-able appearance can make the user feel better;
Multiple-use characteristic: can be used as pad independently and can be inserted in the diaper.
How to Use Adult Insert Pad?
Place the adult diaper pads in the bottom of the adult diaper and unfold the adult nappy pad.
After putting the adult nappy pads in the right place, tear the label on the front and back of the insert pad. Then attach it to the nappies.
Pull the adult nappy pads up to your navel. Then use your fingers to make the adult nappy pads fit the diapers better.
Adult insert pad products
Adult insert pads can save you time to change your diapers and are cheaper than adult diapers. It is suitable for people with mild incontinence.