Adult pull up diapers are disposable protective undergarment worn by individuals who have urinary incontinence symptoms. Based on the study, more and more people are suffering from incontinence all over the world. It can result from normal urinary or bowel incontinence or postpartum incontinence, or even from being bedridden. Sometimes, aging is a problem. Anyone facing either of these conditions needs to rely on adult diapers to live a good life. Yeesain pull up diapers with good performance and wholesale price are very popular for patients with urinary incontinence. Welcome to contact us for more helpful information.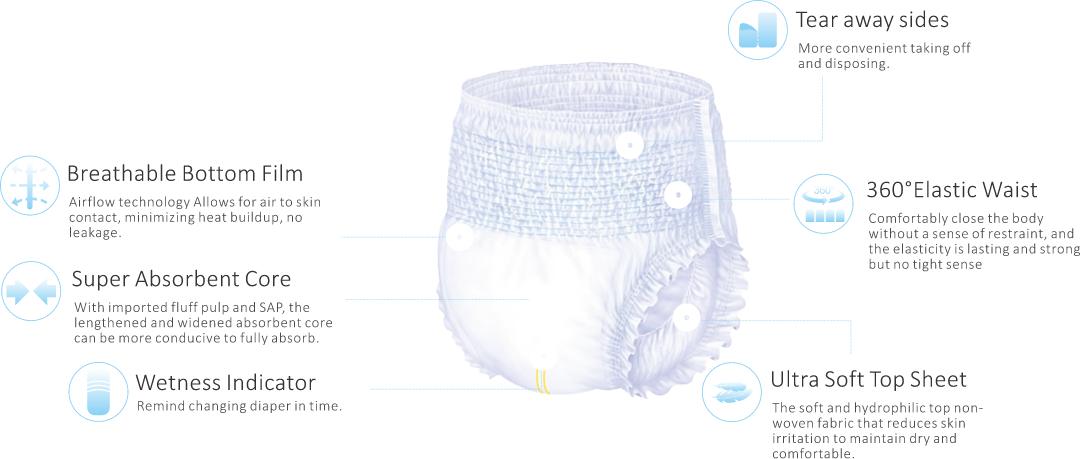 Features of Yeesain adult diaper pants
Absorbency is maximum, thus keeps you dry and fresh
Unlike bulky adult diapers, it is comfortable that just like underwear
The diaper material is durable yet is very soft
No fragrance, latex, and lotion
Skin friendly and prevent rashes
80% cost-effective compared with adult diaper pants from other disposable diaper manufacturers
pull up diapers for adults wholesale
If you are looking for highly absorbent adult pull ups, then Yeesain diapers for adults are the best option that you can consider. Our diapers are made using the three-layered technology that is used for astronauts in China. It comes equipped with Incotec technology to ensure maximum absorption and odour lock functionality. Unlike other adult diapers, these don't just absorb moisture, they draw it away from the skin and lock it in three layers of skin. As a result, the layer in contact with the skin remains completely dry. In addition, it is designed to last nearly eight hours. Yeesain adult nappy pants are not only keep skin dry by absorbing moisture, but also prevent odors through their unique layering system. With factory direct and rich experience, our pull up diaper wholesale price is very favorable. Contact us for more details.
Disposable diaper manufacturer – Yeesain health technology
As one of the leading disposable diaper manufacturers in China, Yeesain has quite rich experience and strong production capability to provide excellent adult pull up diapers. With a professional OEM/ODM team and advanced equipment, we provide a one-stop service to meet all your requirements. Besides, our adult diaper price is absolutely competitive and affordable compared with many other adult diaper manufacturers. Furthermore, located in Zhengzhou city, we enjoy extremely convenient and fast delivery. Welcome to leave your message to start your business.