Baby pull up diaper, also named baby training pants or easy ups. Different places may have different names for baby pull up diaper, but it has the same application – help with potty training and nighttime training. It is a great helper for moms and dads to teach their toddlers learn valuable skills like sliding pants on and off to use the toilet. As a professional diapers manufacturer in China with rich experience and excellent R&D capability, we provide quality baby training pants at wholesale and competitive prices. Want to boost your business? Contact us for more details.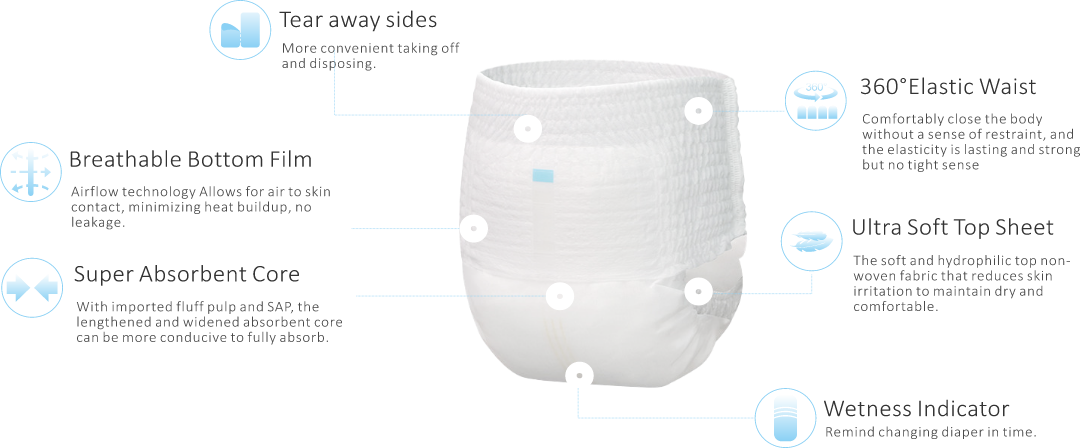 Advantages of Yeesain Baby Pull Up Diaper
Super absorbent core. With highly fluff pulp and SAP, the lengthened and widened absorbent core can be more conducive to fully absorb.
Ultra-soft top sheet. The soft and hydrophilic top non-woven fabric reduces skin irritation to maintain dry and comfortable.
Breathable bottom film. Airflow technology allows for air to skin contact, minimizing heat buildup, no leakage.
Tear-away sides. More convenient taking off and disposing of.
Wetness indicator. Remind changing diapers in time.
What are the differences between baby diapers and baby pull up diapers?
The biggest difference between regular baby diapers and pull up nappies is that they can be slipped on and off like common underwear. By removing the tape, older toddlers were less likely to remove their diapers by ripping off the tape but were given practice during their potty training. To keep things simple, we're just talking about disposable pull-ups that you might find in the diaper aisle of a store. Put this in an easy way, pull up diapers are easy to wear and take off just like underwear or underpants. It is suitable for potty training, thus, it also called baby training pants.
When to use pull up diaper?
As soon as you and your baby are getting ready, you can start using the pull up diaper. Typically, babies are ready to use pull-ups as soon as they are ready to start potty training, which is usually around 18 to 24 months of age. But don't be surprised if your child is not ready to turn three, especially if you have a boy.
Why choose us?
As one of the leader diaper manufacturers in China, we growing quite fast due to competitive benefits. Firstly, founded in 2002, we have rich experience in the R&D, manufacture, and marketing of baby diapers. Secondly, we have a very strict quality inspection system to provide quality products. All our diapers have been obtained ISO international standard. Thirdly, located in Zhengzhou city, we enjoy an extremely convenient transportation condition. Therefore, we can make sure the fast delivery of our products. Welcome to get in touch with us for stable and long-term cooperation.
Let's begin your business after an inquiry
We are a professional and comprehensive baby diaper manufacturer, and we provide a one-stop service for baby pull up diapers. Besides, we have highly skilled staff and advanced equipment to ensure the high performance and good quality of our products. Are you looking for a reliable baby diaper manufacturer that can provide OEM/ODM service? Leave your message now!