Nursing Breast Pad – Pros, Cons, Rights, and Wrongs
Before I had my first child, I'd seen and heard about breast pads, but I never thought I'd rush out to buy them. From an outsider's point of view, I have nothing against them, but it's hard to imagine fluids pouring out of your nipples until you actually start breastfeeding. That's why I woke up three days after giving birth (I was still in the hospital with the baby) to find stones on my chest (it turned out to be my breasts) and the smell of rotting milk…
It was a picture of milk on my shirt. So the first reason to use pads is the smell. At least for the first few weeks, when the milk is at its most condensed. If you're wearing a pad and the pad starts to smell, you can always replace it. For my part, I had no clothes with me, and I don't think I had a change of clothes left. Before I went to the hospital, I had never thought about buying sanitary pads, so I contacted a friend who had just breastfed and asked if she could send them in for a few days, which she did.
So I started PAD nursing education. For one thing, these items are available in almost every brand, fabric, shape, and size. Breast pads, nursing pads, or bra pads - it's pretty much the same thing. What ultimately differentiates them is their job performance.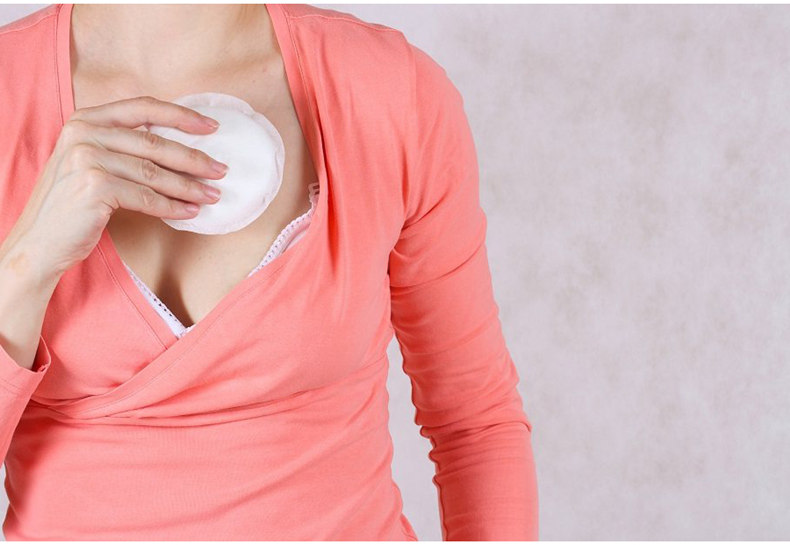 Buying reusable MATS is another step forward. Obviously, this is good for the environment, with the added benefit of not having to worry about all the chemicals from the birth process being transferred to the baby because you'll probably wash them all the time. Things to consider when choosing pads:
Shape and size: These two features will determine how visible the padding will be under your shirt. I guess it depends on the kind of clothes you like to wear and the season. Larger pads aren't necessarily more absorbent, but you might find them more comfortable, and the seams might stick out less when they're not pushed right in front of your bra cup.
With a larger pad, you also don't have to worry about it moving inside your bra and eventually leaving the leaky nipple. The thickness of the liner may also affect the light transmittance of the liner. There is such a thing as a thin, absorbent mat.
Fabric: The water absorption of a mat is largely determined by the material of the mat. Fabric or material can also affect the heat sensation of the pad if it retains moisture around the skin, or if it is harmful, it can also cause odor. When it comes to disposable items, you see mostly paper, plastic, and cotton, although some contain water-absorbent gels, such as baby diapers. Washable clothes range from simple cotton to flannel, hemp, and even wool padding.
There are even adhesive silicone pads that prevent leakage in a way, and you can be in the water in a bathing suit or without a bra -- now, that's a novelty when you're breast-feeding.