How to make a diaper cake the easy way
A diaper cake is a pile of rolled or folded diapers that look like a traditional tiered cake. They're one of my favorite gifts to take to a baby because they double as decorations. Diaper cakes can be a fun focal point for a baby. It's fun to decorate a diaper cake to match the theme of the party. Besides, they're a handy gift that you know every new mom can use.
If you want to make a diaper cake, you can find all the information you need below. With the help of these detailed instructions, you can do it on your own, I promise! I'm going to take you through the process of gathering the materials, building the structural part of the diaper cake, and then the fun part of decorating it.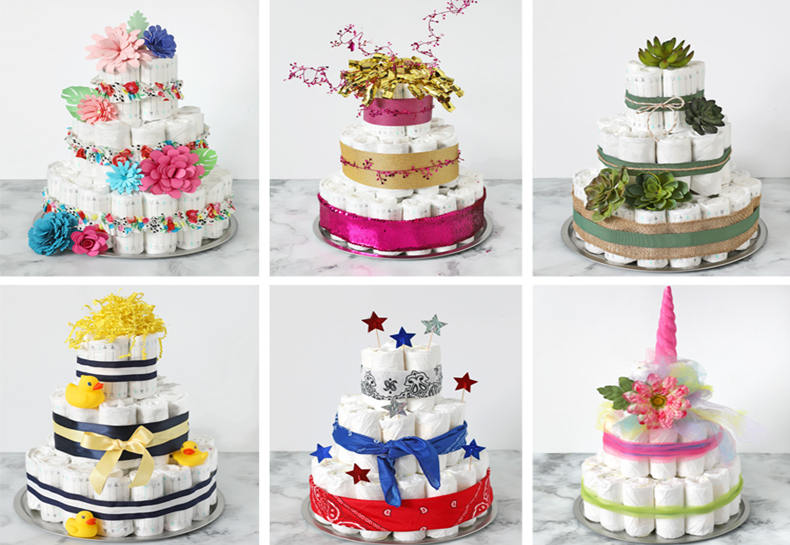 Best diapers for baby diaper cakes
With so many different diapers, it's overwhelming to choose from some diaper cakes. My first suggestion is to buy a larger size diaper. When a baby is born, a size 1 diaper will grow very quickly and mothers often receive gifts in these sizes. I would recommend a number 2, 3, or 4 diaper. My second tip is to look for plain white diapers, or find a patterned one, and pick one that matches your color scheme. There are some really cute diapers out there with funky prints that can really jazz up a diaper cake. Yeesain diapers with beautiful colors and pretty patterns are quite suitable to make diaper cakes. Welcome to contact us for more details about yeesain baby diapers.
How many diapers do you need to make a diaper cake?
The number of diapers you will need to make a diaper cake depends on how big you want your finished cake to be and how many layers you plan to make. The more diapers, the bigger the cake. However, here is a diaper cake size guide that will help you estimate how many diapers to buy. The size of a diaper cake is also slightly affected by the size of the diaper you use. I used a size 4 diaper to make all the diaper cakes mentioned in this article. If you are using a newborn or size 1 diaper, you may need to add 1 or 2 additional diapers per round to make up for a slight size difference.
Diaper cake assembly instructions
Roll up a diaper and secure it with a small rubber band. Repeat this procedure for all diapers.
Place a heavy bottle of baby lotion or shampoo in the middle of the cake. You can also use empty paper towels or wrapping paper.
Start rolling a diaper around the bottle. Use a large rubber band to hold all the diapers together. I recommend making the base layer three diapers deep, but use as much as possible to fill the entire cake base evenly.
Diaper cake decorating ideas
Ribbon. The ribbon is the most commonly used, but you can also get creative with tulle, roll it up with a blanket, or even cut it into strips of paper or scrapbook.
A lovely cake decoration. Adding something to the top of the cake will make it look finished and will hide any holes that might appear in the tissue tube or lotion bottle.
Modification. These decor styles will make your diaper cake a hit. You can use paper flowers, silk flowers, shredded paper, curly ribbons, small toys, bows, flower picking, baby boots, small stuffed animals, or any other theme that you think will be cute or will suit your baby shower.